Food is something that brings us together. We express our love and happiness to our families and friends through food. Lunch outs, dinner dates, we even cook at home for sweet get-together, celebrating the beauty of togetherness and solidarity. That's how important food to us!
Hey Lounger!! But wait, here are the Ten Food Commandments that you need to keep in mind to make sure of a balanced and healthy diet.
10 Food Commandments
1. Eat variety of food.
It's important to eat wide variety of food because it helps us to keep good health and protect us from chronic illnesses. When I say variety, it means we must choose within five food groups – Carbohydrates, Protein, Dairy Products, Fruits and Vegetables, finally Fats. Always keep in mind the food pyramid taught from schooldays. 😁
2. Baby's first 6 months must be breastfed and start to give proper solid foods after 6 months.
Breast milk helps keep your baby healthy. It gives your baby the essential nutrients for developments. It reduces disease risks because it provides important antibodies. After 6 months you may also start giving solid foods to boost through additional nutrients dietary intakes. This will also stimulate their interest in eating food. I have seen my friends (who are already parents) did and doing this hence it is really recommended.
3. Eat fruits and vegetables daily.
I must admit, eating fruits is a big challenge for me. So, my take is to drink my fruit. Instead of buying and drinking tetra packed or bottled or powdered fruit juice, I will use my magical blender or juicer to juice it and drink it. 😊 At times, I can add up my vegetables too! It is vital to have fruits and vegetables in our diet because of vitamins, minerals and plant chemicals we need for our body. It will make your skin glow too and prolong your youngness physically. No make-up? No problem! 🤗
4. Eat fish, meat, and foods that provides protein.
Protein is the building blocks of our body tissues and serves as a fuel. It provides us energy density that we need in our daily activities. I love white-fleshed fish and skinless white-meat poultry a very good source of protein. I love milkfish (bangus) and tilapia. For red meat, I prefer lean, loin or round because this is where the rich protein is sitting. Aside from beef, I also go for lamb or mutton. 🍴
5. Drink milk, eat foods that is rich in calcium.
When we reached teenage and/or adulthood we usually stop drinking milk. This is wrong! Milk is packed with important nutrients like calcium, phosphorus, B vitamins, potassium and vitamin D which help to prevent osteoporosis and bone fractures. I find it soothing when drinking milk, it also helps to have a goodnight sleep. Tried and tested.
6. Ensure clean and safe preparation of food.
Nowadays it's hard to find clean and safe food especially when eating out. We don't know how they prepare our food inside restaurants or fast foods' kitchen. Better to check the place's reviews before going and eating in your selected restaurant. When buying your ingredients always read labels properly. This will give you information that will help you understand what you are buying aside from seeing its physical aspect. Other tip, when I buy vegetables, say leafy veggies I normally chose those that has insect bites because it means those have minimal or non-pesticides. 🥒🥕
7. Use of Iodized Salt.
Iodine is an important mineral that keeps your thyroid gland produces hormones needed for tissue repairing, regulate metabolism and promote proper growth and development. I was diagnosed to have hormonal imbalance thus iodized salt helps me get the iodine I need aside from consuming seafood – as you may know, seafood is quite expensive.
8. Control your intake of salty, oily and sugary food.
This is yet again another challenge for most of us. Who does not love that salty Lays dipped with that creamy garlic mayo or that classic ranch dressing dip? Who can resist McDonald's, Jollibee, all those fast food chains we grow up with!?! But! It is always best for us to control what kind of food and how much amount of salt, oil and sugar we intake. Too much or too less is bad for you and me. Let's keep it balanced and healthy!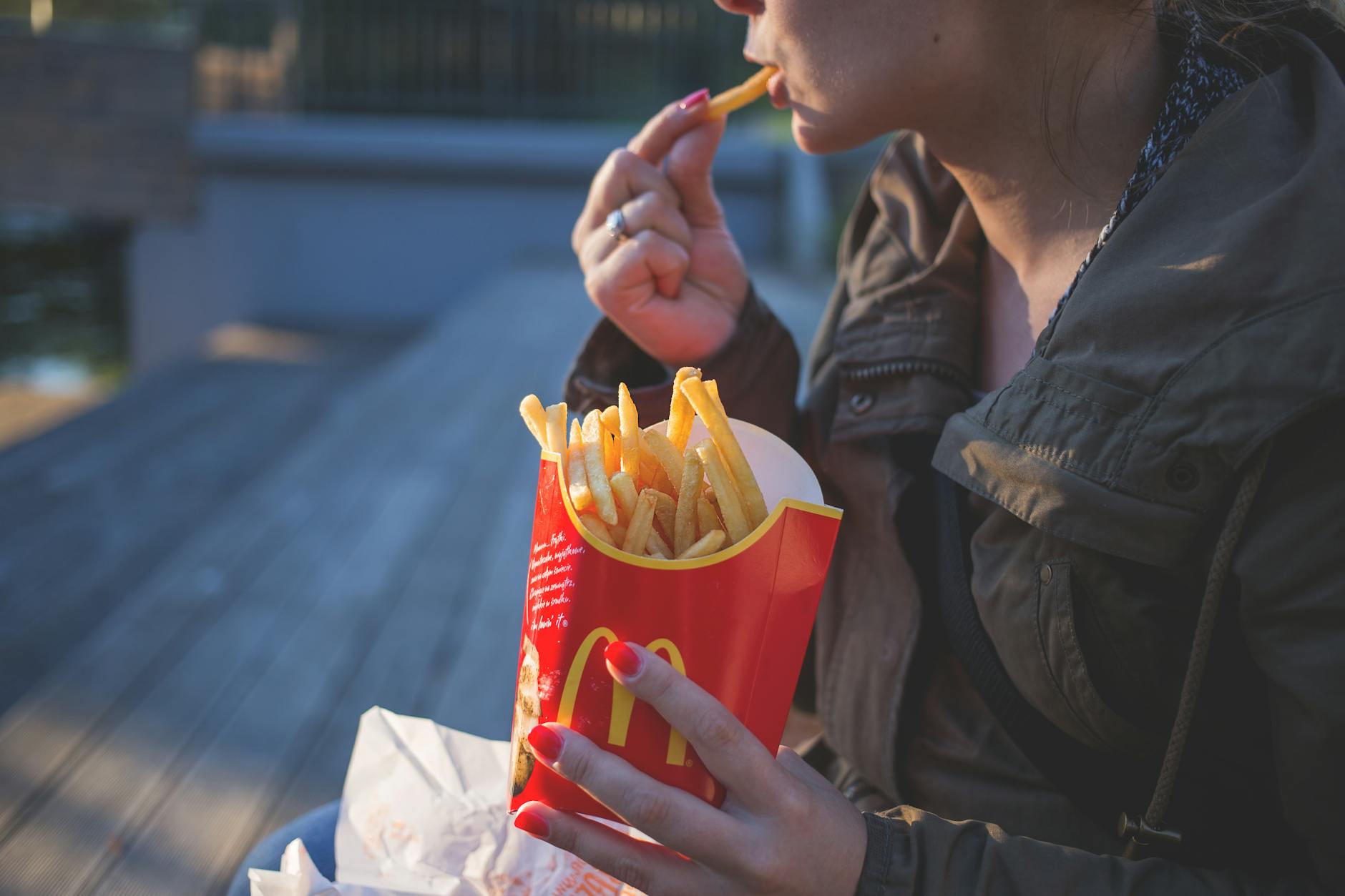 9. Maintenance of right weight.
Know your Body Mass Index (BMI). This is the most recommended method to know if you are overweight or underweight. Obesity and Malnourishment are deadly and brings chronic diseases. Don't be afraid to know and understand your BMI status for you to put appropriate action. If you need correction you can immediately do something about it. If you are healthy then your job is to maintain it. 😉
10. Be Active. Avoid Alcohol and Cigarette.
I was once into cigarette, but I have managed to remove it from my system. It's hard yet it's achievable. It will only make you smelly, give you dull dark lips, cloudy dark eyes, and stinking dark nails. 😂 It also gives you higher chance of getting chronic lung diseases like cancer. It may relief you from anxiety for a short period of time, but it damages your body tremendously. Same goes with alcohol. It is best for us to do physical exercises instead when you have anxiety or any inappropriate mental apprehension. Work it out! Be active. That's how I do it. It helps you regulates blood pressure and help you produce dopamine and other happy hormones you need to get back on track! 😉
There you go, Lounger! Stay happy and healthy! ❤️
"Let food be thy medicine and medicine be thy food." – Hippocrates
Reference: National Nutrition Council Central Luzon Regional III
---
Thank you for reading!  Please continue to support by hitting the like (star) icon, leaving comments, and sharing this post.  Feeling kind and generous?  You can Buy me Kofi❤️ Again, thank you! Enjoy Life and Spread Love, ~jeMiMa.😊❤️